Saturday, February 04, 2006
Ipoh Hunt - Ipoh Curry Mee
Slurp......Slurp....wow curry mee...yummy....
This shop named Sun-Seng-Fatt located in Ipoh's Jalan Market in the old town area.Just for you guys Makan Hunter waited for one hour before he could take his breakfast,I stood for half an hour in the shop just to wait for a place to sit down and the workers took another half hour to prepare the food.In Ipoh,basically entertainment means food,because there ain't anything really great about this valley except for caves.
Ok now,you guys see the curry mee on top? I ordered bihun-mee which means rice noodles with noodles.They put some chicken and prawns in the dish. OK,let me focus on the essence of a bowl of curry noodles - the soup. They use a chicken soup base which is very tasty and combine it with curry that is really delicious.
The left picture below shows the dry curry mee which is basically the same but the gravy is thicker and more curry smell that is more suitable for people who like food with stronger taste.

I would suggest you go try it on your own and its really different from Penang Curry Mee.One serving is 4 ringgit if i've not mistaken. enjoy!
Tuesday, December 20, 2005
Cadbury M'sia Vs Cadbury England
On the left is our local Cadbury Fruit & Nut and on the right is the same thing but from England. You guys must know that its different eventhough its the same brand and same flavour. The quality of coco used is contrary, you will notice it if you have a bite and taste it. When you ever go overseas for holidays and wanna buy some chocolate back and think those designer chocolates are way too expensive to munch then go for the regular chocolates in supermarkets, they are better too.
Monday, December 19, 2005
KL Hunt 2 - Burger King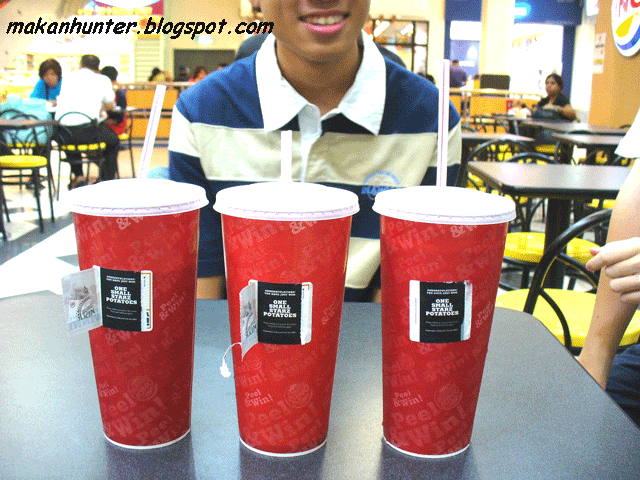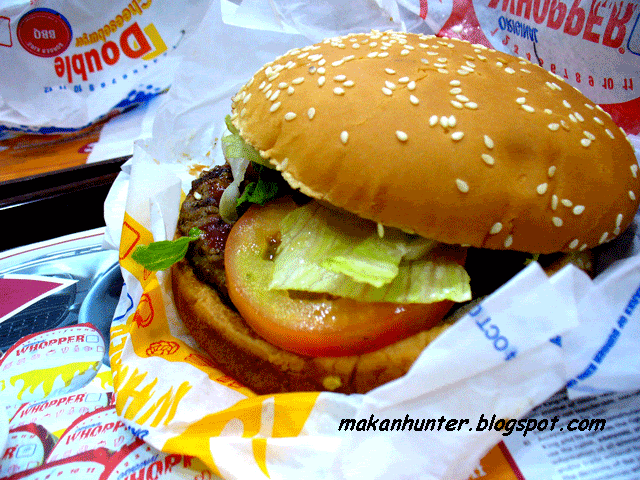 I guess my Penang friends have always heard of Burger King in television shows from America and don't find any in the pearl of the orient but think of the fact that we have all the great hawkers others don't!
OK, the burgers aren't anything super fantastic or what-so-ever. But the Whopper is larger than McDonald's Big Mac. The beef tastes better than Ronald's but the chips aren't anything special.
The first left pic shows 3 soft drink cups, I didn't notice there's a little promotion thingy there but Makan Hunter's friend saw it. So I peeled it and guess what? 3 large soft drinks gave the same thing - star shaped potatoes..... well I don't know is it everyone has the same thing but I didn't ask anyone cause its nothing special. Its just small hashbrowns starshaped.
Makan Hunter's Ratings : ITS JUST ANOTHER FAST FOOD RESTAURANT !!! NOTHING GREAT!
Sunday, December 18, 2005
KL hunt - Madam Kwan's


HELLO folks! Makan Hunter is back from action.

After the long wait, Makan Hunter won't disappoint his supporters. As usual good food ratings are coming along.

Now here's the famous Madam Kwan's nasi lemak. Have you guys heard of Sakura's nasi lemak?In case you haven't, its originally famous for its nasi lemak and the recipe owner is this Madam Kwan so she decided to go solo on her own. ( this is just a story i heard from people in KL,its not really 100% trustable )

Let's forget about their story and focus on the FOOD... hehe

As you can see, the presentation is nice and remember ... looks can be deceiving but NOT this time.

Let me ring the 'gong' by elaborating the heart and soul of the dish - NASI(rice).
I can tell that it is high quality rice that is being used to cook with the aromatic smell of santan(coconut milk) that pampers your taste bud.

Nothing different from usual, there is half an egg on the right which is hard boiled but yet good in texture.

The ikan billis and ground nuts with chilli paste taste different from other vendors as its not too spicy yet bringing a dash of sourness in it.

F ollowed by two pieces of local curry chicken, "oops!" don't always worry the moment you hear the word 'curry', its not spicy. Local curry chicken "yumm.."; sweet,creamy,tender n juicy.

If you detailed the photo,you will see a small plate on top, those are pickles that we call "azhart"(don't really have a correct spelling). That's nothing phenomenal, just some cucumbers,pineapples,chillies and cabbage et cetera.

argh........erm.......uhh.......
ok I dropped one important thing...
uh uh uh not the cucumbers....

Its the shrimp floss. Do you guys know Makan Hunter had to ask the waitress what is the floss made of? She didn't even know? Thanks to Makan Hunter, she finally knows what she serves to every customer! She went around asking and got back to me only after 7 minutes....

Makan Hunter's Ratings :
Ambience : 6.5/10
Service : 7.5/10
Presentation : 8/10
Taste : 9/10

Hunter's Enjoyment Rating : 8/10
Thursday, December 15, 2005
Stay Tuned
Makan Hunter is back from hunting....

stay tuned for new makan ratings......

Tuesday, November 29, 2005
Fishhead bihun

Nam Thean coffee shop is situated in the middle of batu lanchang lane its after the mobil station if you're coming from Jelutong road and its after Sunshine Jelutong if you're coming from town.
Basically, everyone is here for its fishhead *bihun! A lot of stalls tried to sell here but failed,they always give up and go elsewhere. Currently there's a noodle stall there.

*bihun : rice noodles

When I said fishhead bihun don't jump to conclusion that it serves only fishhead. Normally if you want fishhead, it comes fried. But I always think that they only fry the not-so-fresh ones to preserve as they also serve boiled ones. Makan Hunter chose to order boiled fish with "thin" bihun. You can have porridge or "thick" bihun but I chose "thin" bihun.The porridge is hokkien style it means its just rice in soup which is something that's not really good compared to Cantonese porridge. "Thick" bihun is smooth but it doesn't absorb the soup well so "thin" bihun is the best selection.




Here's the bihun! They sprinkle some greens and garlic oil with garlic pulps. The garlic oil really play an important role in the taste. It brings out the flavour of the soup. They seasoned the fish well. Its really a turn-on for people who enjoy food with light 'n' nice taste.
Makan Hunter's Ratings :
Taste : 8.5/10
* I don't rate the ambience,presentations etc when its in a hawker stall or coffee shop.
Sunday, November 27, 2005
68 Kelawei
68 Kelawei, a continental restaurant located in kelawei road,penang.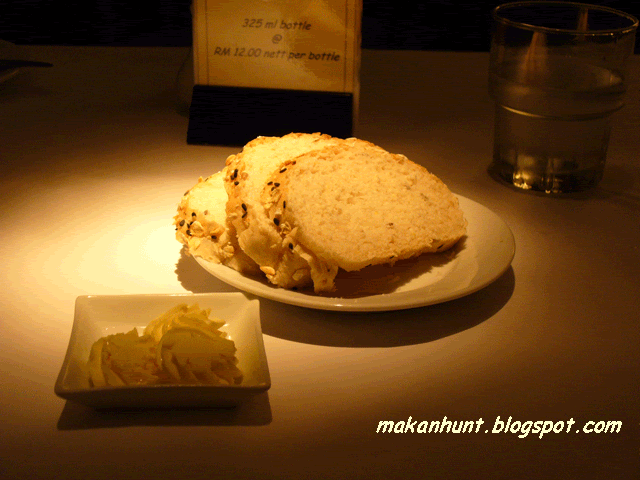 I ordered the set dinner which includes a caesar salad,soup-of-the day, a main course (has more variety from other places I've been), a dessert and coffee/tea.
First, the bread came as usual in any western restaurant. They serve this bread with many nuts and grains on top which is very nutritious and delicious.
Here comes the caesar salad.The presentation is not bad with the colourful display of different vegetables.This caesar salad is quite typical as it is served with croutons and normal dressing.
After having the appetising salad, soup-of-the-day is served. I had a look at it and its orangy red in colour and the moment I put the spoon full of soup into my mouth,the word " carrot " appeared in my mind and indeed it was carrot soup after asking the cheerful waitress.
I chose the rib eye steak as my main course and the presentation is awesome as you can see on your right.The black pepper rib eye steak is served with capsicum,japanese cucumber,carrot,broccoli,tomatoes and potatoes.All the vegetables are lightly sauteed with butter.The special thing about this is the potatoes.They fry it with egg,not just that,they made it with potatoes and eggs layer by layer over each other.I wanted my steak to be medium cooked and I loved every bit of it. The tasty outer part covers the succulent and juicy meat in the centre really made me enjoy.
Nothing is better than a cup of aromatic coffee after a great meal.For me I would like my coffee with only one and a half tea spoon to tame the bitterness of it.Its impossible to taste the real aroma of the coffee if its sweet unlike local coffee.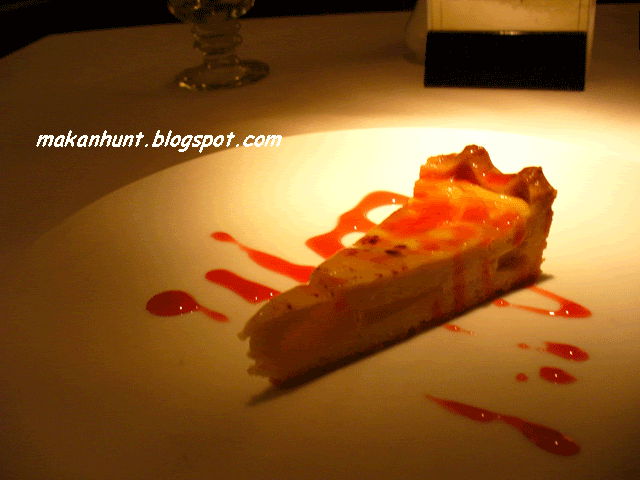 The waiter brought the blackboard with the list of desserts available that night,I chose the pear tart as I wanted to taste something a bit sour(pix above right). My brother ordered a tiramisu cake(pix above left). Tiramisu is nothing different from the common one but the standard is one level above the others.
At last, ice cream !!! It seems so nice but it was really a let down.My dad ordered peach melba and the menu stated "peach melba style" and damn it! its not peach melba! Its just ice cream with peaches. Didn't like it altogether.The real peach melba is where the cook heat the peach and cover it with honey then serve it with ice cream to give the dessert a mixed combination of hot and cold. A REAL LET DOWN.
Makan Hunter's Ratings:
Ambience : 8.5/10
Service : 8/10
Presentation : 8.5/10
Taste : 7/10
Hunter's ENJOYMENT RATING : 8/10